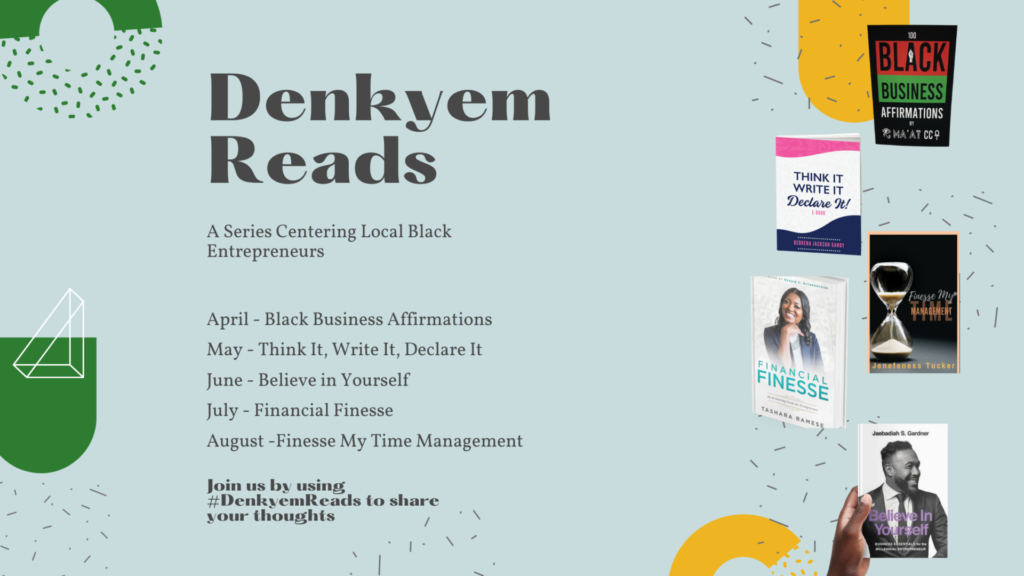 ---
We believe in local Black entrepreneurs. Part of our vision is that Black business owners will be trusted voices within their local communities. Voices that will support other small businesses, advocate for local causes, and inspire other aspiring entrepreneurs.
We will be looking to some of our local leaders to read what they have to say about running a successful business. The Denkyem Reads series will look at these books and consider how they align with the 3 values of our organization:
Denkyem's Core Values
Community: We must work together to reach our goals. Relationships are valued over credit at Denkyem. Through our reading series, we'll be looking at what role the community has played in the author's journey of becoming an entrepreneur.
Confidence: Self-confidence leads to self-discipline, creating a productive cycle. We believe that business owners have to feel confident enough in their work to separate it from their self worth. The journey to being self-confident looks different to everyone. We'll be looking for any advice these authors have to give on this topic.
Centering Black Voices: Entrepreneurs of color have been historically marginalized and excluded from lending institutions. For this reason, Denkyem strongly believes that their stories must be at the core of our work. We're looking at the unique story that each of these entrepreneurs have to tell being a Black business owner.
The Books
Reading: April 2021
Description: "Affirmations completely for Black businesses! Let's get in black Business, stay in Black business and create melanated generational wealth!"
Reading: May 2021
Description: "There is a certain outlook, a certain mindset, a certain way of perceiving the world and oneself, a certain disposition, a certain attitude, and an understanding of a process that very few seemed to have discovered, that yielded a life of more joy, fulfillment, holistic success and prosperity. This book will begin to uncover this process for you. Apply this process to your life to unlock the hidden power in words in new and powerful ways."
Reading: June 2021
Description: " Believe in Yourself explores the pain, anguish and trauma that's involved with building a business during one of the most depressed economic times in American. This book is filled with war stories, little victories but much determination".
Reading: July 2021
Description:" If you are an entrepreneur, a small business owner, or an individual looking to grow your company, then this book contains powerful business growth details that will help you make the best out of your situation and leverage your strength to boost success. It is not just a book to read but one you will reference as you begin to apply its principles in your business".
Reading: August 2021
Description: "Right when I was about to give up on entrepreneurship, I developed systems as a last ditch effort to keep my business. It worked! So now I want to help you employ the same systems and start working SMARTER instead of harder. This Finesse My Time Management System has five strategies that allow me to manage my multiple clients, my businesses, my time and my personal life simultaneously.
---
Come by our blog, The Den, each month to read a discussion on each book. Join the conversation on our social media @denkyemcoop by using the hashtag #denkyemreads. All authors options are their own. Denkyem supports diversity within the voices of our community and encourages individuals to research the advice given in these books.