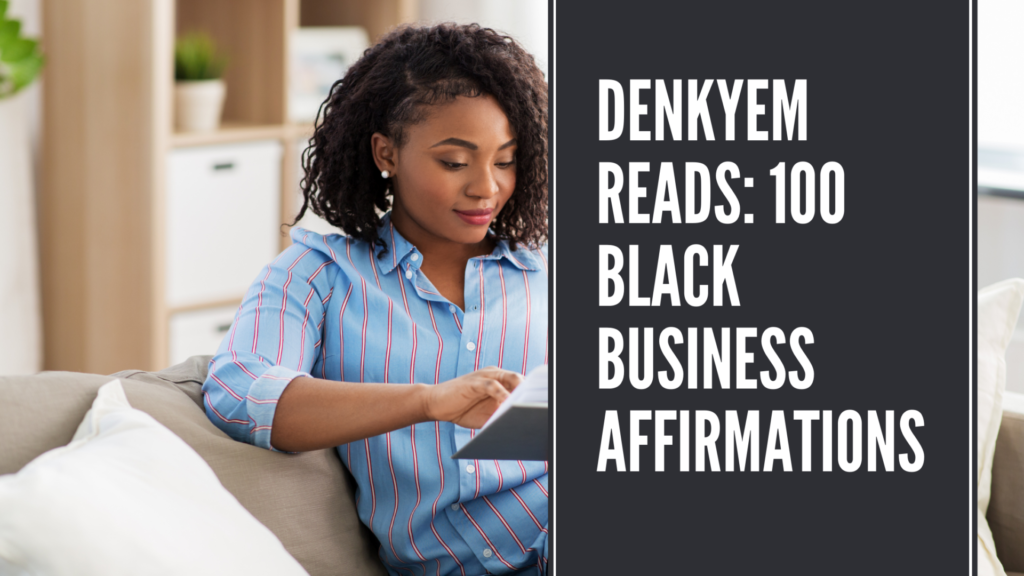 We're kicking off Denkyem Reads with 100 Black Business Affirmations by Ma'at CC. Ma'at CC has a background in business administration. She is the owner of Nubian Business Consulting LLC, a consulting service supporting Black businesses. 100 Black Business Affirmations, is her 3rd publication focused on uplifting the Black community. It is a book rooted in the belief that a positive mental attitude can yield positivity in one's life.
We read 100 Black Business Affirmations and found many ways that it aligns with Denkyem's core values: Community, Confidence, and Centering Black Voices.
Community: A central theme of this book is group economics. Ma'at CC names building generational wealth as her goal as well as building people up who learn, grow, love, and share with one another. This is also reflected in many of the affirmations. For example, affirmation number 12, "With the success of my Black owned business, I have been able to help more". And Affirmation number 27, "I am grateful for what my Black business gives back to the community".
Confidence: Ma'at CC recommends affirmations as a way to strengthen self-confidence, stay motivated, and maintain focus on your goals. She believes that affirmations, "create helpful routines, and positive patterns". Similarly, Denkyem believes that self-confidence leads to self-discipline, creating a productive cycle.
Centering Black Voices: Ma'at CC's passion for supporting the Black community comes through in this book. A writer, and an entrepreneur, this is her voice, and her gift to other entrepreneurs. In the back of the book she list the thought leaders who have inspired her work and other suggested reading, further centering Black voices alongside her own.
For May, we're reading Think It, Write It, Declare It by Debrena Jackson Gandy
Come by our blog, The Den, each month to read a discussion on the book. Join the conversation on our social media @denkyemcoop by using the hashtag #denkyemreads. All author's opinions are their own. Denkyem supports diversity within the voices of our community and encourages individuals to research the advice given in these books.