We're all about making lending work for Black owned businesses. That's why we've introduced a new and improved application! Applicants can receive prequalification in just 6 steps. After that, it's all about connecting with our team. A streamlined process means that we can spend more time building trust, understanding your needs, and growing the relationship that makes our loan unique. Below, we'll walk you through what you'll need to start making moves to gain capital for your business.
1. Sign Up
The Denkyem loan application offers 3 different sign up options. Register your account with an email address, or authenticate your account through your Google or Facebook credentials. Creating an account will allow you to save your progress on the application and return to it as often as you need.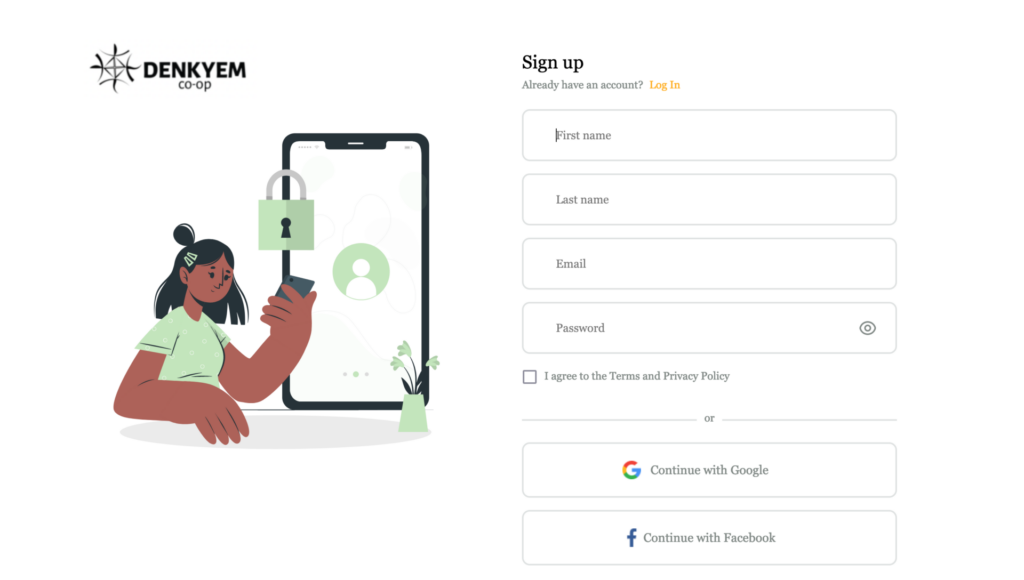 2. About You
The "About You" section is straightforward.Enter your name, email address, phone number, and role at the company you're requesting the loan for. Pretty basic stuff. If you don't already have a business specific email address and phone number, consider having one rather than using your personal information. If you don't have one, no worries. Just use the best email and phone number to contact you!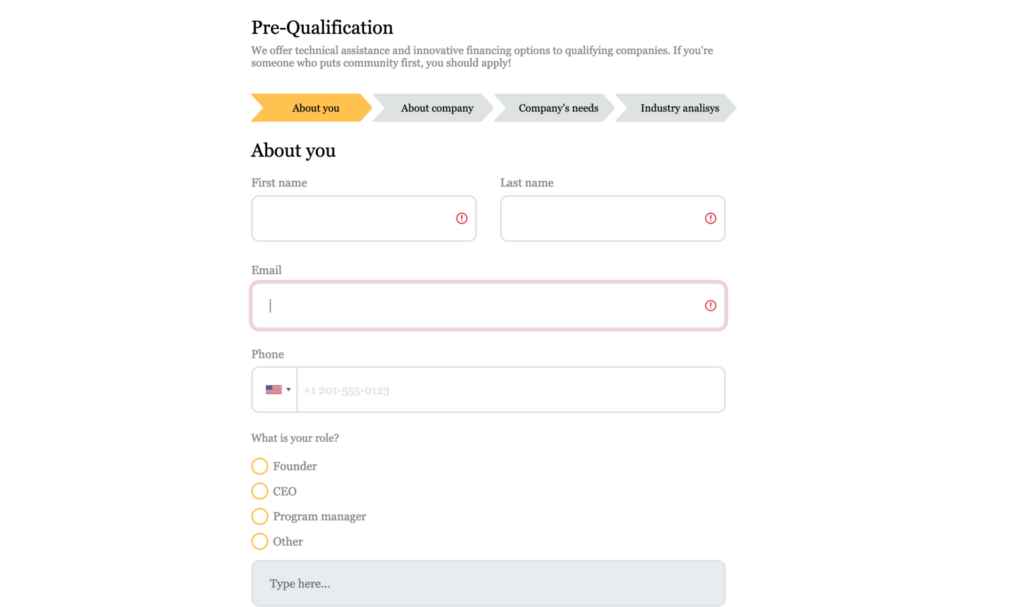 3. About Company
Next, you'll complete your business profile. Denkyem requires that your business is registered within the state of Washington. You'll also include an estimation of your monthly revenue, and a question about your level of involvement in the community. This is to get a general snapshot of your business. We'll dig into specifics later after first establishing our relationship.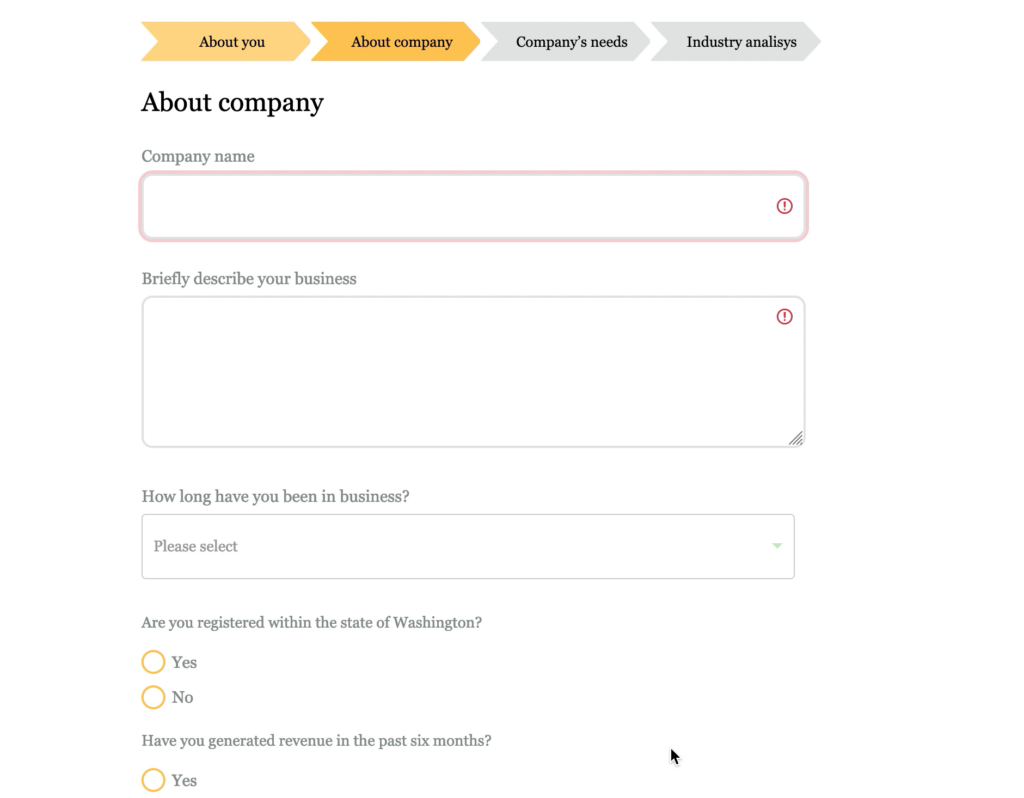 4. Companies Needs
The fourth step is identifying what we will be working on together. Denkyem is more than a loan. Part of our service is also supporting your business. Do you need soly funding, or some strategic assistance and mentorship? In our experience, it's usually more than just the money. Click the check-boxes that apply, and let us know what amount you had in mind for your loan.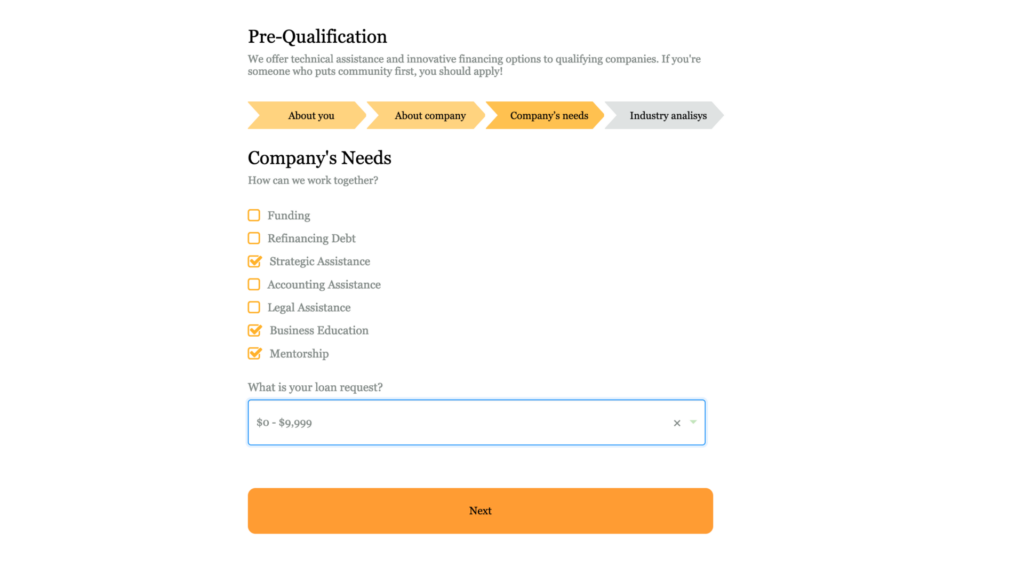 5. Industry Analysis
Industry Analysis is the last set of questions to work through. These questions are to gain an understanding of how your business operates within your particular industry. For example, do you sell a product with a high or low shelf life. You'll also answer questions regarding your community involvement, such as your engagement with local organizations.
6. Finances
Lastly, you'll be prompted to link your business bank account to Plaid. Plaid is a service that makes it easy and safe to connect your financial accounts. Select your bank from the list and log in with your credentials. You'll be able to see your accounts and a list of your income and expenses. You can deselect information that would not be applicable to your loan application. Information selected will be used for your prequalification. More detailed information will be required when the time comes for us to move forward with your loan.
7. Connect
Once your online application is complete, you'll get an email inviting you to discuss our loan product. Send over your availability for a zoom meeting, and we'll get you on the calendar. This meeting is an opportunity to connect. We want to learn more about the wonderful things you're doing, and give you the chance to get to know us as well. Relationships are the core of our work. We want you to be comfortable with the loan process, with asking questions, and with reaching out for support along the way.
8. The Details
To move forward in the process, we'll next gather the financial and business information that we'll need to make the final decision on your loan application. You'll upload CSV files of your bank account and POS data, as well as information for your Quickbooks or equivalent financial documentation. We also ask that you include a statement detailing how the loan will be used to grow your business. This could be a specific project you're looking to complete or items that you need to purchase for your inventory. You may include any other information that might influence our decision as well, like prospective grant information. This is the final step to create the full picture of who your business is, and why we should work together.
9. Let's Eat!
The final step is to read and review your contract. Take your time to look over the terms of the loan agreement. You'll get a detailed explanation of how the loan payments are set up, and what your specific payments would look like.
Denkyem's symbol is the two-headed crocodile. If the two heads fight for food, they both starve. If they work together, they both eat. This is about building a community in which we can all thrive. Take time with the information laid out in the loan agreement. Ask any questions that you may have. Once you have a good understanding, sign your name, and let's eat!