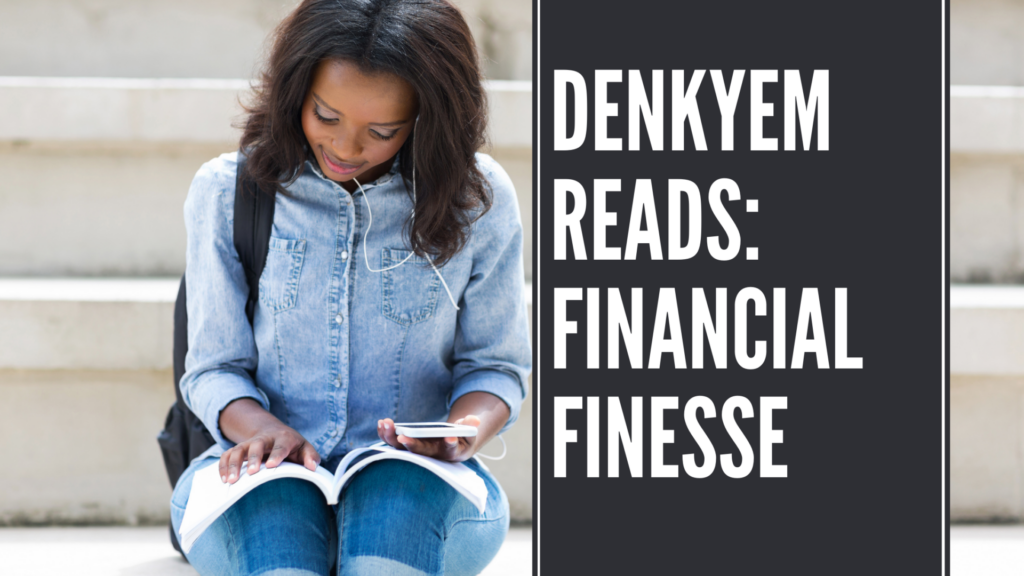 Tashara Ramese is a local accountant and community leader. She built her business as a way to create a sustainable life for herself as a working mother. Her book, Financial Finesse, came from a desire to take away the intimidation that dealing with finances often creates for entrepreneurs. This detailed guide goes into vocabulary, budgeting, taxes, and much more. 
We read Financial Finesse looking for alignment with Denkyem's core values: Community, Confidence, and Centering Black Voices.
Community: A component of being community focused is information sharing. We believe in being transparent about the resources and relationships that have supported our success. Tashara Ramese is sharing a very valuable resource with Financial Finesse – An Accounting Guide for Entrepreneurs. She breaks down business structures, common terms, accounting practices and cash flow management. It's all the business and accounting questions you want to ask, but might not necessarily have people in your life to answer it. For example, what is a registered agent and what are they for? Some of these questions have very basic answers, but the lack of such knowledge can lead people to believe that they aren't equipped to be an entrepreneur. We envision a world where Black-owned small businesses have the resources and support that they need to become a sustainable beacon in their communities. Tashara is providing one of these resources with this book.
Confidence: TaShara wrote Financial Finesse with the goal of helping business owners understand accounting. Her belief is that even if you're hiring an accountant, it's important to be confident in your ability to understand your business's finances. In her own experience, she believed that it was her responsibility to learn about everything from marketing, to sales in her business. She wanted to have a deep understanding before hiring someone else to take the lead in order to be able to give direction and work in partnership. Financial Finesse breaks down terminology and breaks down the structures within accounting to help entrepreneurs feel more confident. It's from this confidence that many entrepreneurs are able to grow and sustain their business.
Centering Black Voices: The personal experience of building her own business, as well as the scripture that has inspired TaShara, are woven throughout this accounting guide. We believe in the importance of sharing the journeys of Black business leaders. Representation provides various roadmaps to success, rather than seeing the same pathway that's only carved out by few. TaShara advises that, "you do not need to be intimidated, nevertheless, you will need to take things seriously". Her book takes away any illusion that she just arrived as a successful entrepreneur, but rather breaks down the steps and the processes involved in building yourself up for success.
​​Join us next month in reading, Finesse my Time Management by Jenefeness Tucker.
Come by our blog, The Den, to read our thoughts on the books. Join the conversation on our social media @denkyemcoop by using the hashtag #denkyemreads. All author's opinions are their own. Denkyem supports diversity within the voices of our community and encourages individuals to research the advice given in these books.