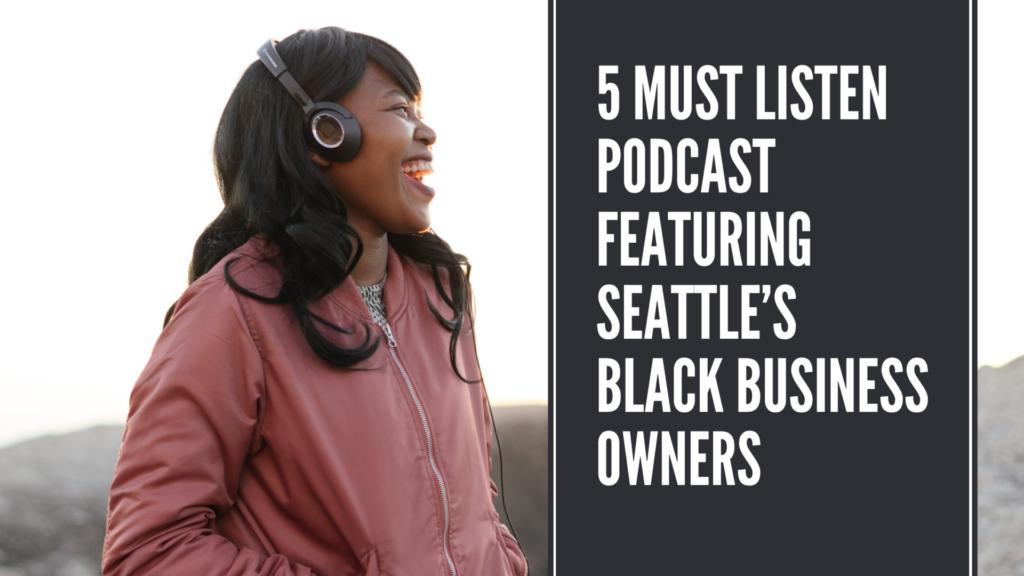 These 5 podcast interviews will introduce you to Black business owners making moves in the Puget Sound region. From an interview with a Downtown Renton coffee roaster to a herb farmer in Pike Place Market, learn more about their journeys and how the road to success can often take you on a detour.
The Glow Up
Episode: Ep. 92 – Stylist & Entrepreneur Leila Hayward
Interview Begins at: 15:00
Summary: On the Glow Up, Leila Hayward discusses her journey becoming a hairstylist. After her foster parents failed to care for her natural hair, Leila learned to nourish herself. A stylist took notice of Leila's braiding skills and offered her her first job at 15. Leila discovered how to market her skills and how hair could be a woman's first form of therapy. You can support Leila by following her Instagram @the.nhr as she rebrands her hair studio to Nirvana Holistic Renaissance wellness center.
The Up N Up
Episode: Gotta G R I N D before you pour with Boon Boona Coffee (Efrem Fesaha)
Interview Begins at: 3:10
Summary:  On The Up N Up, Efrem Fesaha describes how he left working for corporate offices to eventually open Boon Boona Coffee. Efrem is a planner. He meticulously thought through every aspect of his business. From sourcing the coffee beans, to looking at exactly what it would take to run a profitable cafe. He believes in continuously educating yourself. This is how he brings the best product to customers. You can support Boon Boona coffee by ordering coffee beans online or swinging by for curbside pickup. 
Think Tank of Three
Episode: Building Economic Development for Woman with Monika Mathews
Interview Begins at: 0:00
Summary:  On Think Tank of Three, Monika Mathews explains how she teaches business and self-care to young women. Monika is the founder of Life Enrichment Group. Life Enrichment Group is a non-profit that oversees four youth mentorship programs. Monika believes in teaching young adults to find a passion rather than money. You can support Monika and her young queens by buying their products. They are made and sold by the mentees themselves at queencareproducts.com.
Pike Place Podcast
Episode: The Herban Farmer (Ras Peynado)
Interview Begins at: 2:57
Summary:  Ras Peynado stops by the Pike Place Podcast to talk about his long history with the market. He walks through how his mom's work at Pike Place and his dad's background selling marijuana led him to grow cooking herbs. He used his knowledge to create sauces and infused honey. His hot honey Sauce is infused with white wine vinegar, cayenne, and smoked paprika. It's just one of the many flavor profiles that he's developed through the years. You can support the Herban Farmer by shopping at herbanfarmonline.com
Balanced Black Girl
Episode: Finding Your Soulful Flow with Jasmine RaShae
Interview Begins at: 10:28
Summary:  On Balanced Black Girl, Jasmine RaShae talks about how she manages being a yoga instructor, storyteller, and brand alchemist. She explains how she came to understand the importance of carving out time for herself. She believes it's what allows her to serve others. Jasmine encourages her clients to express themselves. She does this through storytelling and yoga practices. You can support Jasmine by signing up for a virtual  Soulful Flow Yoga Class.
Visit seattlegreenbook.com to check out more local Podcast.