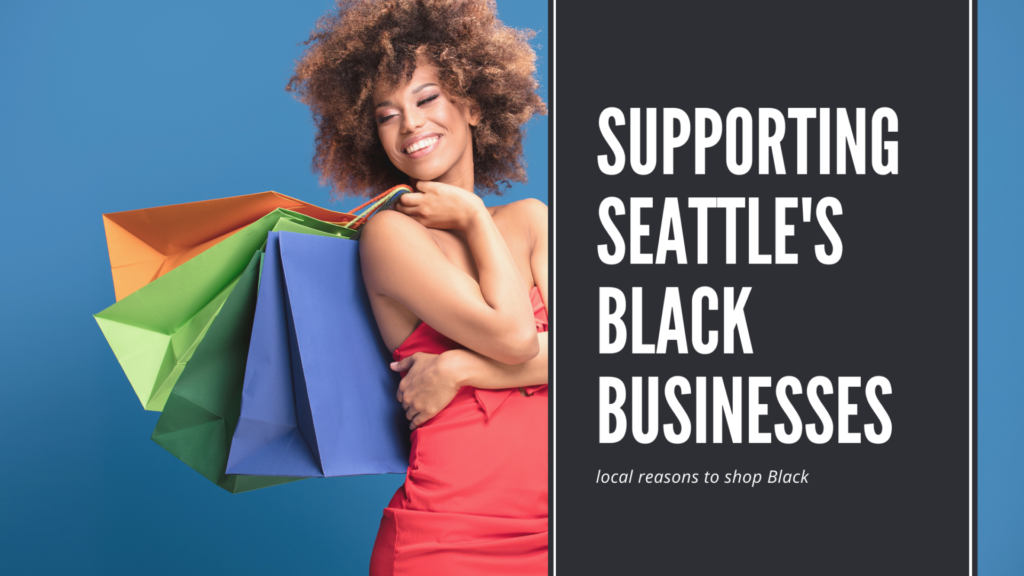 Nationwide, many people are making a conscious choice to buy Black. In Seattle, we have a small but present Black community including business leaders and entrepreneurs. Looking through a local lens, here are the reasons why you should be supporting Seattle's Black businesses.
To Learn About Our Unique History
Take a visit to the Northwest African American Museum, and you'll learn that the Black Community has a rich history in Seattle. Shops like DeCharlene's Beauty Salon, have been in Seattle since the 1960s when the Central District neighborhood was over 70% Black. DeCharlene herself was a voice in the community. She gave women a way to support themselves by running a beauty school out of the salon and fought against being pushed out of the Central District by developers. After her death in 2018, the shop still operates to continue her legacy.
Mary Wesley, who also has a shop in the Central District, holds the title of Pacific Northwest 's only Black owned florist. Flowers Just 4 You has remained open since the 1980s despite recent challenges.The shop was moved to a new location due to development and lost a large contract with a Black-owned Mortuary after a change in ownership. Support from groups like Africa Town helped to gather support for the shop when it was faced with eviction. 
The Instagram account Vanishing Seattle documents the displacement that has happened in the city while celebrating the soul these places give us. Choosing a Black-owned business such as Flowers Just 4 You and DeCharlene's Beauty Salon helps to preserve the history of the CD and the legacies of the people operating there. 
To Get Service Tailored to Your Needs
Some needs require very specific care. Take, for example, skincare. Estheticians with experience caring for darker complexions are essential for melanated skin. In addition to her formal training, KimJoy Long, a West Seattle esthetician, educated herself on ethnic skin. In an interview with Balanced Black Girl, she explains how she continued learning beyond the few pages of the class textbook to understand hyperpigmentation and the care needed for darker skin tones. As a Black Esthetician, she often pushes for more diverse representation in skincare demonstrations for products such as sunscreen. Her additional knowledge and advocacy in the skincare field benefit all in the industry because as a Black esthetician she is pushing others to learn more and do better. 
As the health of Black skin needs tailored care, so does inner mental health. That is why Niles Edge a holistic health center in Columbia City has all Black providers ranging from psychologists to art therapists. Studies show that African Americans are less likely to receive mental health services and more likely to receive poor quality care. Supporting a space like Niles Edge pushes mental health care toward more equitable treatment and care for the Black community.
Support Restaurants Doing Good Work
Seattle is a major city with many recognizable destinations. Many Black restaurant leaders in Seattle have established themselves as nationally awarded or as a must-see. Others are doing work in the community that is also worthy of recognition.
Eduardo Jordan, of JuneBaby, is the first African-American to win the James Beard award for Best New Restaurant. His restaurant Salare also earned him the 2018 award for Best Chef in the Northwest. During the COVID-19 pandemic, Salare has been serving as a community kitchen. It is part of the Restaurant Workers Relief Program to support restaurant employees who have been laid off or have seen a reduction of hours. The workers are able to pick up to-go orders, some supplies, and toiletries. 
Chef Tarik Abdullah, aka A DJ and A Chef appeared on ABCs The Taste, impressing the late Anthony Bourdain. In response to the pandemic he has joined other local chefs to form The Seattle Community Kitchen Collective. The group provides free meals for curbside pickup to those in need. Tarik is known for his philosophy "Feed the People" which embodies his values of feeding the community nutritious and cultural foods as well as the knowledge they need to thrive.  Feed the People is now operating as a pop up out of Soulful Dishes, alongside Kryse Panis Martin, Chef Ariella Bangs, and Chef Kristi Brown of That Brown Girl Cooks.
To Create Opportunities for Mentorship
Many Black Business owners create opportunities for youth in the community. Many had mentors themselves who helped to sharpen their skills and learn their trade. For example, Leila Hayward of Nirvana Holistic Renaissance  (formally Virtuous Hair Studio), speaks openly about the struggles she has faced and the mentors who have supported her. As a successful business owner, she has used her shop to train young girls on how to braid hair and market their services. Her summer program gave middle and high school-aged students the chance to learn various techniques and gain insight into what it takes to run a salon.
QueenCare is operated by young students and their mentor Monika Mathews. The proceeds from QueenCare products are used to fund other programs that Monika runs under her non-profit Life Enrichment Group. These programs include Youth In Business, Young Queens, Know to Grow, and the Scholars Project. Monika focuses on not only business aspects of being an entrepreneur but also the self-care required. 
Brothers United in Leadership Development (BUILD) is a community organization focused on building up black men and boys in the community. Their new business BUILD Knockerball rents giant inflatable activity balls. The service provides hands-on-job training & experience for Black Men & Boys with proceeds funneling back into mentor programming. 
What are your personal reasons for buying Black? To search for Black-owned businesses around the Puget Sound visit Seattle Green Book.