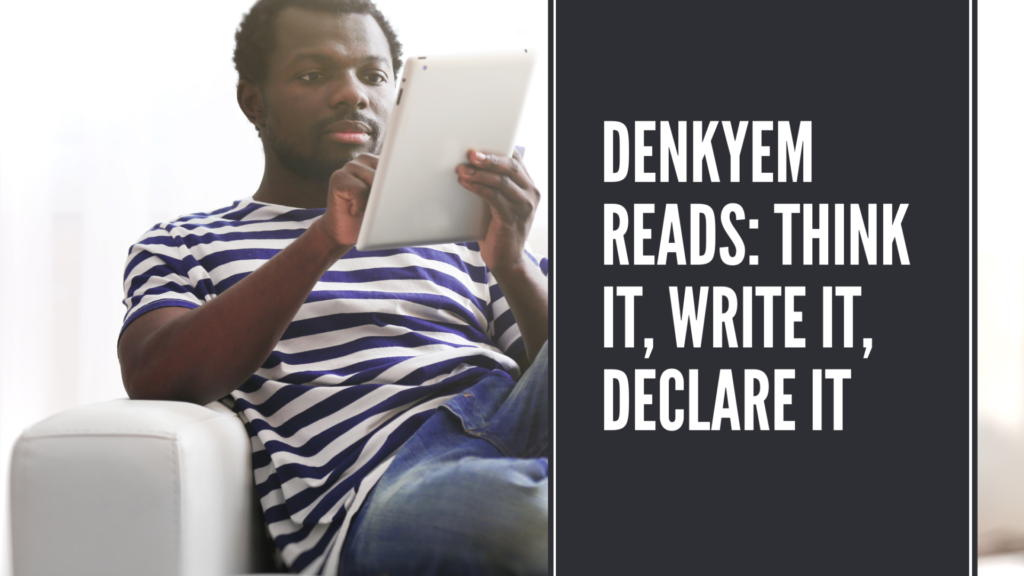 Last month we had the pleasure of reading Think It, Write It, Declare It  by Debrena Jackson Gandy. Debrena is a business coach and the best selling author of All the Joy You Can Stand, and Sacred Pampering Principles. Her coaching style is known for putting self-care first, so that you can reach clarity in your goals, and execute them in a way that doesn't take away from a full and joyful life.
The e-book, Think It, Write It, Declare It is a window into how she figures out what she wants, puts it into words, and uses her energy to shift her goals into a reality. We read Think It, Write It, Declare It looking for alignment with Denkyem's core values: Community, Confidence, and Centering Black Voices.
Community: This book offers a framework for setting personal goals. Words, according to Debrena, have the power to, "create a positive, creative force in your life". But in order for your words to bring about action you must be "intentional, deliberate, and conscious". When we speak to potential clients for Denkyem's loan program, we ask them about their involvement in the community. An ideal client is intentional about their community involvement. They create partnerships, schedule volunteering, and are intentional about their role in the community. Ideally, community involvement doesn't happen only when the opportunity arises, but instead occurs deliberately. Debrena talks about relationships in this way throughout the book. Her relationship with her spouse and children is not happenstance. She envisions how she'd like to show up as a spouse and as a mother and puts it into writing so that she can see her intentions everyday. This is a great strategy for planning how to show up in the community as well. Write it down, put it somewhere where you can see it, and be international about putting energy behind it.
Confidence: The takeaway from this book is that mindset matters. How you talk about yourself, your business and your relationships. It's a guide to, "help you to disengage from the flow of negative thoughts and engage in the flow of clear, positive thoughts that will bear the fruit of joy, deep satisfaction, fulfillment, love, peace and more ease". Denkyem believes that having a mindset of self-confidence leads to a cycle of self-discipline which supports more self-confidence. A positive outlook allows you to ask for help, try new things, and build partnerships with greater ease.
Centering Black Voices: Think It, Write It, Declare It, is all about the power of using your voice. Debrena argues that allowing thoughts of struggle and scarcity to take over, will in turn cause you to experience more struggle and scarcity- while positive thoughts will lead to more positive experiences. We believe that amplifying positive stories of successful Black business owners, and community work will in turn lead to more successful Black business owners, and community work. Representation in the stories we hear is powerful. In the same sense, only hearing the negative statistics of Black owned businesses- the gaps, the underfunding, the discrimination, can wear people down. While it's important to be aware of this reality- we also seek out stories of empowerment. Debrena is a living embodiment of the energy she puts into her life and her business. Her colleague observed, "You're so free, so full of life, joyful and willing to live outside of the box". Our mission is to see a thriving community of Black business owners who are able to carry that same energy. It starts with hearing stories such as Debrena's and centering these stories in the work that we do. 
We've added one of Debrena's best selling books to our #DenkyemReads list. The book, All the Joy You Can Stand: 101 Sacred Power Principles for Making Joy Real in Your Life is about discovering how to have a life of joy, peace, flow, and ease. We're also reading Believe In Yourself: Business Essentials For The Millennial Entrepreneur by local real estate developer Jaebadiah Gardner.
Come by our blog, The Den, to read our thoughts on the books. Join the conversation on our social media @denkyemcoop by using the hashtag #denkyemreads. All author's opinions are their own. Denkyem supports diversity within the voices of our community and encourages individuals to research the advice given in these books.